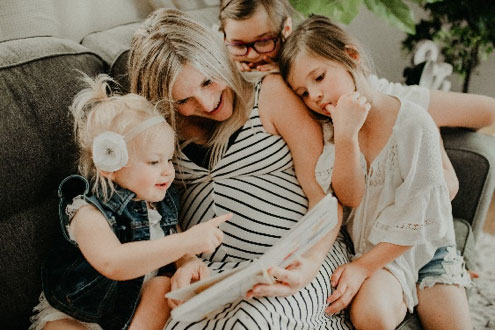 Pelvic health is especially important to me personally, as a mother, physical therapist and Pilates instructor. But, it gained even more significance in this past year. Not only did my husband and I welcome our fourth child in seven years this summer, but I also completed a Postpartum Corrective Exercise Specialist Course and Pelvic Floor Function, Dysfunction and Treatment course through the Herman & Wallace Pelvic Rehabilitation Institute. 
I chose to specialize in postpartum and pelvic floor rehabilitation in hopes of gaining more knowledge to help my postpartum and pregnant mommas – including myself, and I gained even more than that. The extensive courses allowed me to learn many ways to be the best wife, mom and physical therapist I can be. All of these jobs require me to be physical and active. I learned how to properly function my pelvic floor, manage my diastasis recti and avoid and alleviate back and hip pain. This has been truly life-changing for me, and I have witnessed life-changing results in my patients, as well. 
I now find myself discussing pelvic health in all sorts of environments – the park, grocery store, school parking lot, church, etc. Upon first bringing it up, I get the same strange look, followed by a hushed question, "What do you mean pelvic floor?" 
Most women are a little uncomfortable discussing these issues until I bring up the fact that pelvic floor issues can be linked to many problems and that there are many ways to manage and solve these issues. 
What can a pelvic floor physical therapist treat? 
As a pelvic floor physical therapist, I have the ability to treat: 
Pelvic pain
Urinary symptoms (including both urge and stress incontinence)
Sexual dysfunction 
Low back pain, SI pain and any lower extremity pain that may be manifested from pelvic floor dysfunction
Diastasis Recti
Prolapse
Issues related to pregnancy and postpartum 
I am equipped to complete a full pelvic floor musculature evaluation by way of both external and internal examinations. The examination is followed by an extensive treatment plan that focuses on the long-term alleviation of symptoms. 
Additionally, we have a comprehensive team at Peak, including another physical therapist and three other Pilates instructors who have completed the Postpartum Corrective Core Exercise Specialist certification. We all have a deep passion for helping women return to the things they love to do.  
Take hold of your pelvic health!
I added the pictures to this blog first to show off my sweet babies, but also to remind myself and my clients that I have been there. I have dealt with these issues firsthand. I have felt the struggle of low back pain. I have felt the weight of wanting to get my body back after pregnancy – especially now after four babies! I have completely retrained my pelvic floor to function like it is meant to function. 
I am currently three-months postpartum and recently completed a five-mile run that was pain-free. I am carefully and intentionally returning to the things I love, but most importantly, I am able to take care of and enjoy my family. I absolutely refuse to accept that I have to live with pelvic floor issues. I am taking hold of my pelvic health because there are so many people who count on me. You can do the same and I am so passionate about sharing this new realm of physical therapy rehabilitation. 
Make an appointment today to see how I can help you RESTORE YOUR FLOOR!